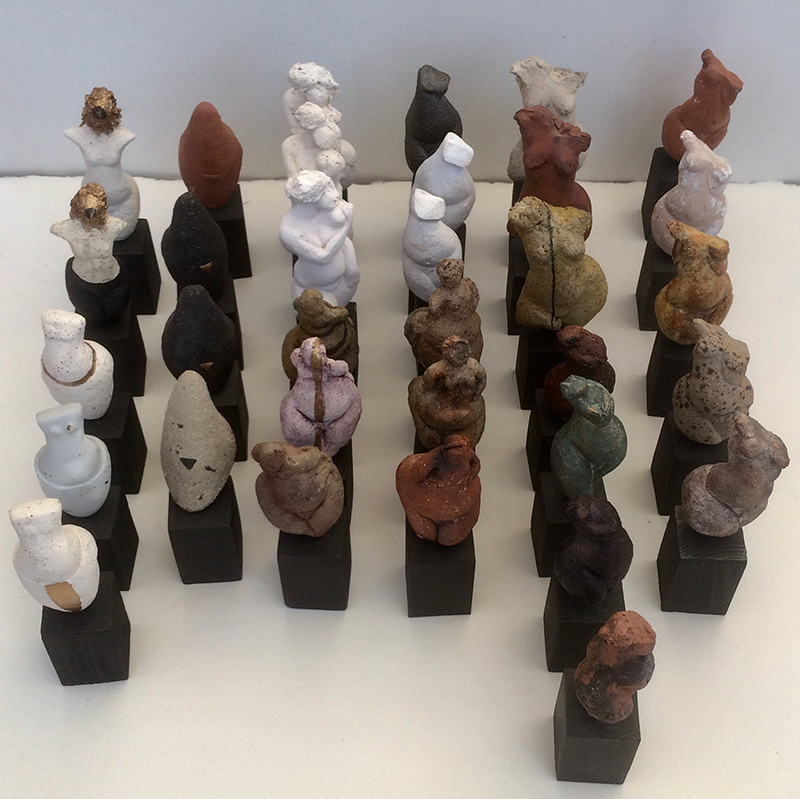 Ninety-Nine Eves is a study in multiples and is both a fine art and meditative practice. The Eves, inspired by my personal muse, the Venus of Willendorf, is a collection of female figures. They are crafted in clay. Each is unique and represents the myriad facets of the (divine) feminine. References are personal and universal. Eves are spontaneous, intuitive creations of the subconscious, which become tangible. Tangible and tactile, they are designed to be held much like a Netsuke or a charm.
Eves echo the power of multiples in the collective consciousness. Much as the collective consciousness responds to sound, so do we respond to form.
Many artists, including Monet, Gormley, Beuys and Wei Wei have examined in the investigation of multiples. 99 Eves is homage to the female in all of us.
A selection of Eves have been press-mould cast. Each is individually crafted, hollowed and contains a porcelain heart which makes a unique sound.
The Eves engage the senses and are available as part of the Amani Harmonic Foundation fund raising activities. Each Eve is offered for an 'abundance exchange' of CHF 99.
The proceeds support AHF non-profit activities in Switzerland and South Africa.
For further information please contact me at: phardenbur@hotmail.com or the Amani Harmonic Foundation. Thank you for your interest – Pam Hardenburg, MFA